Services – Teeth Whitening
In-Office Whitening: Zoom! Teeth Whitening
Most patients wish to have a whiter, brighter smile. Many factors can affect the colour of your teeth, including what you eat and drink, and your age, and your habits. Our teeth are made up of tiny pores that allow staining agents like coffee or red wine to soak in over time, causing our smiles brightness to fade. Core Dental Group offers a variety of options for teeth whitening, to best suit your needs.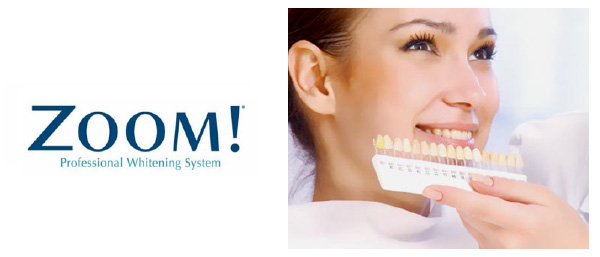 In office, whitening refers to whitening that is completed in the dental office. Core Dental Group offers Zoom! Whitening, in which an advanced LED light is used to remove even the toughest of stains. This lamp increases the effectiveness of the whitening gel, which will be applied by a professional to ensure that sensitivity is minimal and results are consistently beautiful. In approximately 2 hours, you can expect to see results 3-8 shades whiter. The process is relaxing and safe, with variable intensity settings to ensure your comfort.
It is important to ensure that your teeth and gums are healthy before going forward with Zoom! Whitening. After an examination, your lips and gums will be isolated with a special material to protect those areas from being lightened and to reduce sensitivity in the mouth. The whitening gel will then be applied to the teeth in conjunction with the Zoom! Light. The light aids the gel to break down stains on your teeth. After each application, you will see the instant results, leaving the office with a whiter and brighter smile in one session!
Take Home Custom Whitening Trays:
Custom trays for at home whitening are another option to achieve beautiful whitening results. With take home trays, you will come into the office to have impressions taken of your smile, which we will use to create custom fitted trays for your upper and lower teeth. These trays are fit to your teeth to keep the powerful professional whitening gel on your teeth and to protect your gums. These whitening trays are recommended to be worn for about an hour each day, or at night while you sleep. These can be worn until the desired results are met, or as sensitivity allows. Most people see results within the first several days. Take home trays offer patients a convenient method of whitening and can be used to apply touch ups as required.
SpaDent Whitening:
Spa Dent Whitening is another option we offer for take home whitening. With this method, the tray with professional whitening and LED light are combined, allowing for quick results at home. A small amount of whitening solution is placed in the tray. This solution, in combination with the LED light, causes oxidization of the stains, resulting in brighter and whiter teeth. Spa Dent provides visible whitening in just 20 minutes! Most people see results within the first several days. Spa Dent Whitening offers patients a convenient method of whitening, and can be used to apply touch ups as required.