Core Dental Rabbit Hill
NOW OPEN EVENINGS AND WEEKENDS!
DIRECT BILLING & 0% FINANCING
NOW INTRODUCING DR ARAZM FARHANGFAR
OFFERING SERVICES IN FARSI
Part of our commitment to serving our patients includes providing information that helps them make more informed decisions about their oral health needs. Our goal is to assist each patient in achieving and maintaining long term dental health and a beautiful smile. We have an outstanding team that are specially trained to meet all the needs and requirements of our respected patients. We offer many services including implants, cosmetic dentistry and mercury safe removal.
Monday: 8:00 AM – 3:00 PM
Tuesday: 8:00 AM – 3:00 PM
Wednesday: 12:00 PM – 7:00 AM
Thursday 12:00 PM – 7:00 PM
Friday: 8:00 AM – 3:00 PM
Saturday: 9:00 AM – 4:00 PM (Every Second Saturday)
Sunday: CLOSED
Dr.Arazm Farhangfar (Ramsey), DDS
Ashley is a Registered Dental Hygienist who mainly works out of our Rabbit Hill location. After working for nearly seven years in Calgary as a Registered Dental Assistant, she decided to further her career and get her diploma in Dental Hygiene. She attended Toronto College of Dental Hygiene and Auxiliaries and graduated at the top of her class with the Clinical Excellence Award. Her goal is to educate her clients in understanding the importance of their oral health and its connection to overall health, also help them achieve that sparkling white smile.
 When she is not caring for her clients you will find her with her Fiancé Mark and Sphynx Cat Cleo. They love to practice yoga, travel, hike, go Mountain biking, camping and get up to all sorts of adventures together. 
Hi I'm London I am a newly graduate registered dental assistant. My favourite thing about working at core dental group is that everyday is a new learning experience. I love getting to know our patients and educating them so they are aware of the importance of good oral health. Some of my favourite things to do include  running stairs, watching hockey, and visiting my parents acreage.
My name is Arinne and I have worked with the Core Dental team for almost three years now. I'm the one you see smiling at the front desk when you walk into the office of Core Dental Rabbit Hill. I have a diploma in Business Administration – Accounting and joined the team with limited dental knowledge. I was quickly taught everything there is to know about dentistry and fell in love. Dentistry is my passion and I love seeing patients come out smiling after each appointment. It's my goal to ensure my patients understand their treatment plans and how their insurance policies coordinate for financial success. Nothing you wear is more important than your smile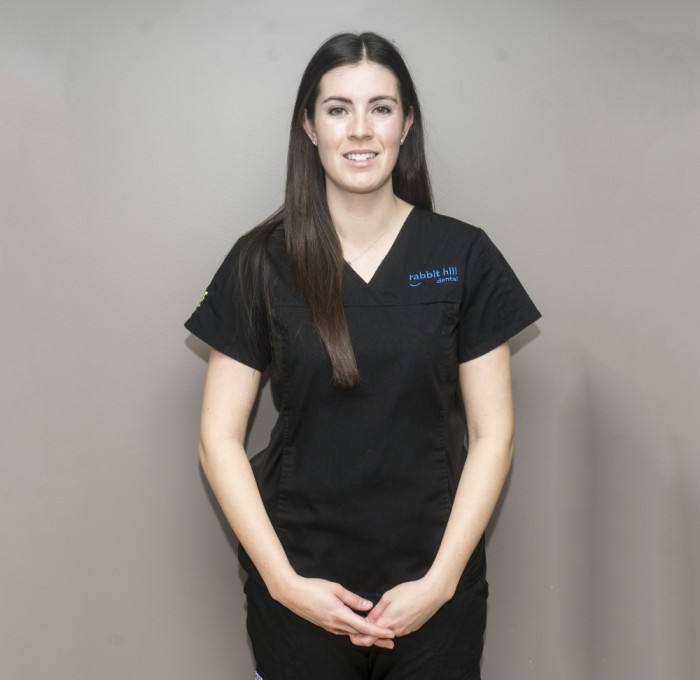 Dr. Cleo Sanmartin
Dr. Sanmartin completed her Doctor of Dental Surgery Degree from the University of Toronto, Faculty of Dentistry, and also has a Bachelor of Health Sciences Degree from McMaster University in Hamilton, Ontario. Shortly after graduating, Dr. Sanmartin packed up her things and headed west to live closer to the beautiful Rocky Mountains.
Dr. Sanmartin believes in a patient-centred approach to dentistry, and enjoys getting to know each of her patients and addressing their individual needs and concerns. She strives to motivate her patients to achieve optimal oral health. In her spare time, Dr. Sanmartin enjoys playing sports, travelling, scuba diving, and being with family and friends.